"Gaming jobs online" review
I was reading forum posts looking for additional sources of earning and I stumbled upon info about the gamingjobsonline.com website. As they claim on their website, you will "Discover how you too can easily be a video game tester getting paid to play video games at home!" Is this the truth, you will find out in the review below?
They offer a 7-day trial for $1 and/or a recurring monthly payment of $27. I paid for a $1 7-day trial through the JVZoo platform with Paypal. Here is my personal experience with the "gaming jobs online" website.
The first thing you can notice on this website besides the video at the top of the website is the comment of the person who recommends gamingjobsonline.com website. He is "Chris Page Editor in Chief Shoot Em' Up Gaming Magazine". The point is that this gaming magazine doesn't exist. You can find out that by a simple search on Google. Just look at some results I got with this searching phrase: "Shoot Em' Up Gaming Magazine". Do you see the website of this magazine? No, you don't.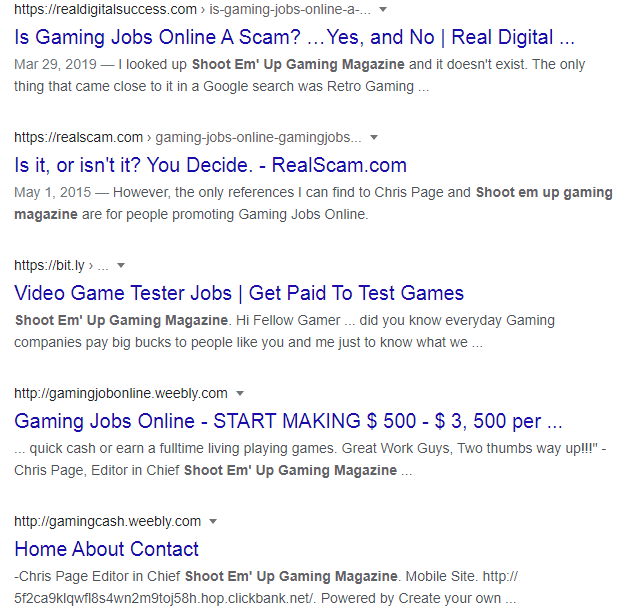 They claim as they wrote on their website that they are the source between us and high-paying corporations. They published many logos of different companies in the gaming industry. Who can believe that that low-quality website has any connection with all these big companies?
What will you get?
When you purchase this product you will receive login data to access the content of the website. In the picture below you can see one section of the website with different fields.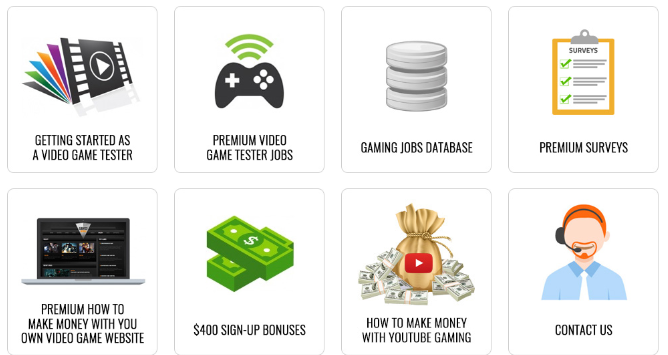 Above these sections, you will find 5 banners linked to 5 different websites. 3 links work and 2 links don't work. When I click these 2 links I'm getting these messages: "error 404" and "Sorry, you can't access this type of form until its creator says so." . Why they didn't find the time to fix these links or remove them, I guess we won't find out. This looks unprofessional.
The very first field of the section as shown in the image above contains video materials. Problem is that if you want to watch these videos you have to have Adobe Flash enabled. I couldn't watch it because Adobe doesn't support Flash Player after December 31, 2020, and therefore Flash content is blocked from running.
In 2 fields you can find a bunch of the links to survey websites. I don't know why they posted such links because this kind of content/links aren't related to game testing jobs.
Again, I couldn't watch videos in "Premium on how to make money with your video game website". It was asking me to enable Flash Player which was impossible to do.
In the field "how to make money with Youtube gaming" I could watch videos without problem because it doesn't require an Adobe Flash player, but the content was still irrelevant. I could find this kind of info searching on Google pretty easily if I needed it.
Here are some "Premium survey jobs" you can find on that website:

Do you see if it is related to game testing?
In the end, you can find job offers for different positions, but problem is that they are regular jobs. They require from you to have the appropriate level of education and skills. You'll find this kind of offer on well-known job search websites.
Is it worth buying?
No. Definitely no. I don't see any reason why someone should buy this. I didn't find one single useful information. Besides that, I found many links which don't work, irrelevant content, and couldn't watch 2 series of videos. All this info you can find easily if you type the right questions in the Google search field.
If you want a refund you will see the page where they mention Clickbank company and that you should contact Clickbank for a refund. They didn't even update info that you can't get a refund by contacting Clickbank. They sell products through the Jvzoo platform, not through Clickbank.